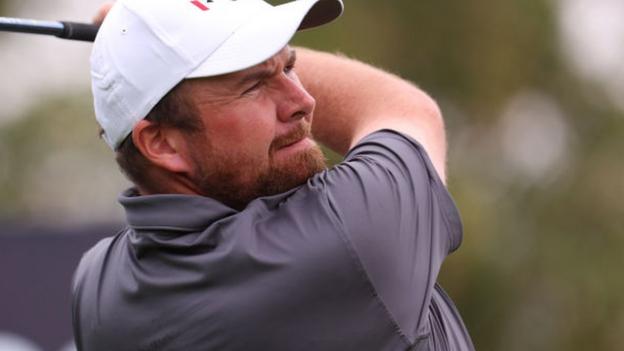 Golf is embarking on a "pivotal" year for its future during what was a "crazy" period for the game, says Shane Lowry.
The former Open Championship champion has joined the PGA Tour Players Committee. He does so at a time when the American-based circuit, along with DP World's European tour, is embroiled in a bitter civil war with splinter company LIV Golf.
As he prepares to compete in his first tournament of 2023, at the Abu Dhabi HSBC Championships this week, Lowry admits that now is the time for golf.
"It's a big year for the sport," the 35-year-old winner of the 2019 Open Championship told BBC Sport. "This time last year, did we think the sport would be where it is now? No, I don't think anyone did."
The Irishman insists he wasn't troubled but realizes these are troubled times. "The last few months are going to be interesting," he said.
"It's crazy to be a part of. Even though it's very exciting, it's pivotal to golf.
"You know, I want golf to be successful. In 30 years, I want to sit on my couch watching people play the tournaments that I love to play in, tournaments that I like to try to win and make a pretty good living out of it."
"I hope that's the case and that's what we're trying to build."
Next month, a legal hearing will decide whether the DP World Tour can ban players who defected from the Saudi Arabia-funded LIV programme.
The result could mean the likes of Lee Westwood, Ian Poulter and Henrik Stenson play their last European Tour events here in the Middle East.
All three have a long and illustrious career both individually and in the Ryder Cup, coming into Abu Dhabi and playing the Dubai Desert Classic next week.
"There are two important dates in the next few months with what's going to happen in golf," Lowry said. "Obviously, court dates are what I'm talking about."
He also acknowledged that the sport is in the spotlight like never before. Next month also marks the start of a $20m (£16.4m) minimum US blockbuster and the launch of a behind-the-scenes series on Netflix – The Full Swing – which promises to unearth plenty of turmoil in 2022.
"It's going to be a huge Netflix thing," Lowry said. "At first I didn't want to be involved, I wasn't imagining it. I might regret it when I see how good it probably is.
"There are so many exciting things going on in the sport. Does golf need some makeover? I don't know, but it's definitely getting a makeover.
"For as long as I've known golf, it's been like that; 72-hole championships all over the world, 40 singles tournaments on both courses, which I probably don't agree with.
"We're probably going to have a lot of tournaments. It creates a feeling that people aren't excited enough about golf at certain points in the year."
"Obviously we're all very excited in April about the Masters, and we're all very excited in July about the US Open. [in June]US PGA Championship [in May]and the Ryder Cup in September.
"But we need to come up with something that gets people more excited about the game. I think the PGA Tour is really trying to do that, and the European Tour is trying to do that."
Lowry's top priority is to be part of the European Ryder Cup team that meets in Rome to face the United States in September. He would again play a staggered world schedule with the two major tours.
He believes the DP World Tour is doing well although many of its prize money are dwarfed by the huge sums at stake in the US and on the LIV Tour.
"I think what's happened in the last year or so, we've veered off thinking that $20m or $100m is normal and that's what we have to play for and that's what we deserve.
"And if we're playing for two or three million dollars this round, it's not enough.
"I still think this tour has grown, I think with the alliance with the PGA Tour, with the prize money, guaranteed to grow year-over-year over the next 13 years, I think that's good for the tour.
"I think it's sustainable, and that's the big thing."
Lowry backdoored into the peak years of his career, a major winner driven by that core ambition to play on a Ryder Cup team. He also has a sense of the legacy that should serve well the PGA Tour's Players Advisory Committee.
"Jack (Nicklaus) and Arnold (Palmer), they passed it on to Freddie Kobles and those guys and they passed it on to Tiger (Woods)," Lowry said.
"The tiger passes it on to us and it is up to us to pass it on to the next generation in a better place than we got it."