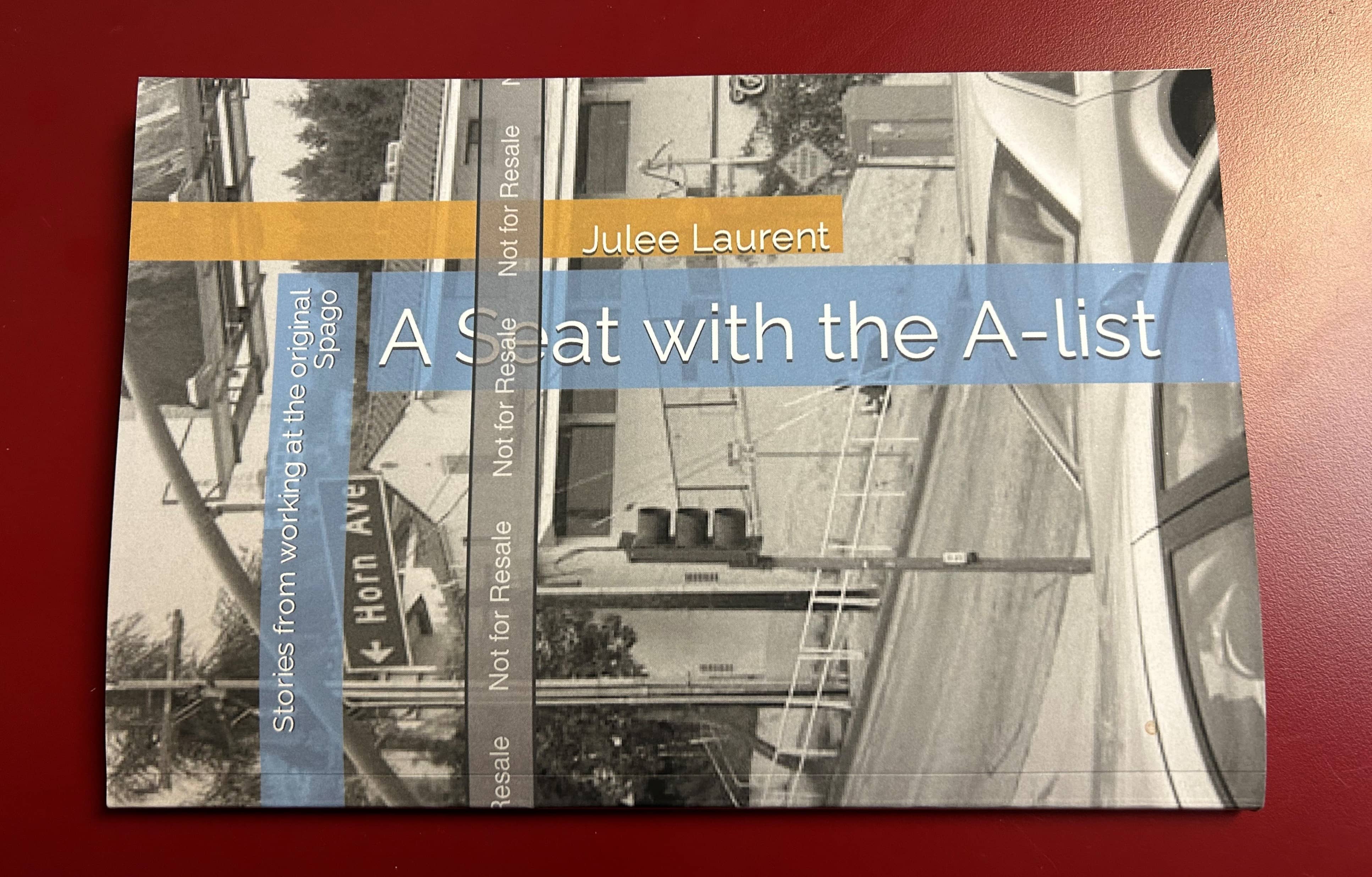 From a chilling encounter with a "Rocky IV" villain to saving Johnny Carson from his signature dog, St. Joseph resident Julie Laurent has had a slew of celebrity encounters while working with Wolfgang Puck at his famous party. Spago A restaurant in Los Angeles.
Decades later, Laurent has moved away from the Los Angeles lifestyle for a long time, and has spent the last two decades working as a journalist in southwest Michigan, and also owns a local marketing company, Think Tank Marketing.
However, she has collected her most memorable stories in a new book, A Seat with A-List: Stories from the Original Work in Spago.
The book is currently available for purchase on Amazon, and an official launch party is scheduled for Friday, January 27th at the Waterfront House of Framing & Fashion in downtown St. Joseph.
Ahead of the official release, we sat down with Laurent to talk more about her book, her Hollywood life, and lessons learned from her time sitting for the stars:
Upon arrival in Los Angeles:
When I finished college, I had a friend who said, "Come to L.A., I work with this guy called Lawrence Bender and Quentin Tarantino" — and that was before they were really big, you know, and I went there and I was thinking I'm going to work in that office. , but it was horribly offensive. This guy, Lawrence Bender, was pretty mean. … Long story short – I was eventually assigned to Spago and this book chronicles the four and a half years I worked there. It was quite an adventure.
On the origins of the book:
I was telling a friend a story about how I thought Bridget Nielsen was going to kick my ass one night. I really thought she was going to beat me up for giving her a bad table – which is the first class. Then I started remembering all the stories from the book. There was a night when I saved Johnny Carson from a hunting dog. Michael Jackson and Madonna came to the Oscars one night.
There was the night one of our hostesses tried to serve Stevie Wonder a menu, not realizing he was blind. Like there were all these little moments that I kind of had in my head that I wanted to write.
About the celebrity whirlwind:
This work environment, it's really intense. You know, you're at the biggest diner in Hollywood coming from the '80s to the early '90s when fame was a really, really huge deal. These were some big characters and some big celebrities, and you worked for Wolfgang Puck, and you had to be on your "A" game. You had to manage this every night.
We'll have people from The National Enquirer come over to try and give us money just to be informants and stuff. All the little things about working at this restaurant were one of the reasons I wrote this – just to sum up what it was all about and what it felt like.
On Wolfgang Puck:
He is an amazing person to work for. I only realized it later how he was really playing lock. He knew everything going on in this restaurant. He was the first to enter and the last to leave. Just a great spirit, great energy, but also that Austrian toughness that he had. It's the reason I'm not a cheap dater.
On being a starstruck:
I was at the back of the restaurant and I sensed something had happened in the restaurant and I turned around and walked to the front and Donald Sutherland was standing there. The energy these mega celebs had and the way they dominated a room of other celebs with great energy was mind blowing.
You stop feeling like the stars after a short period of time. Then, just when you think you're not stargazing anymore, someone you've always wanted to see or meet will come along, and then you'll feel star-studded again. But you can't show it. In fact, if you offered it, you'd be fired.
About the rumors:
What I've really learned is to take people seriously when you're talking to them. Don't believe any lies. You know, our society is full of gossip about people—even in small towns, you hear someone talking about someone else or, "I heard this or I heard that." For me, after working there, I know I never believe anything until I see it for myself. I think it really helped me meet some really cool, really down-to-earth people.
On life lessons:
One of the things I loved about Wolfgang is that even though we would have associated these celebrities with these beautiful tables at any given moment, if someone from Wisconsin had made a reservation six weeks in advance, they were still treated with the same kindness and the same respect because that's what Wolfgang demanded – because they They were coming to eat him. …
I think something translated into my usual daily life. Everyone should be treated with dignity and respect, no matter if it's a big CEO or a movie star or you know, someone you meet but tosses away in life.
You know, we all spend time on this planet together, so we need to treat each other kindly.
Written by Ryan Younger
ryany@wsjm.com