Before the Buffalo Bills took the field in their regular season finale, the stadium's public address announcer called out some important names.
The Bills identified 13 members of the medical and athletic coaching staff on the field at Highmark Stadium, and one other person who remained in Cincinnati.
When Bills safety Damar Hamlin collapsed on the field on January 2, the Bills staff jumped into action, their quick and expert care saving Hamlin's life. Many others also played a role, including the medical staff of the Cincinnati Bengals and the freelance medical personnel who were at Paycor Stadium.
It's often what medical and athletic coaching staff do for their teams behind the scenes. An important part of their job is to prepare for all scenarios, hoping those emergencies never come. Hamlin's response was made possible because of thorough planning, incredible experience from years of training, and decisive teamwork when every second counts.
"It is certainly not an exaggeration to say that the skillful and immediate response by all of our talented caregivers prevented a very tragic outcome at that moment," said Dr. Allen Sales, the NFL's chief medical officer. "And certainly, we never want to see events like this happen, but if there was a medical emergency, a perfectly adequate team, with the right equipment and the right training, was on site able to provide care."
Here's more about those identified on the field at Highmark Stadium last Sunday.
Dr. Mark Kim, an internist, has a lot of ties to Western New York. He has been part of the Buffalo Medical Group since 2005. Kim attended New York College of Osteopathic Medicine's School of Medicine, graduating with honors, and his internship and residency was at Buffalo Sisters of Charity Hospital. He and his son own a huge collection of LEGOs.
General manager Brandon Bean said Reblin, the Bills' equipment assistant, took the crucial step on January 2 to remove Hamlin's face mask so Denny Kellington could begin CPR. "He had to get there and take his face mask off so they could work on it and (it's) not easy when you see the situation Damar is in," said Bean. Reblin joined the Bills in October 2017 after serving as the assistant director of equipment for the University of Michigan football team.
Team internist Dr. White, along with Nate Brisky, worked in conjunction with the Buffalo General Medical Center/Gates Vascular Institute care team to continue Hamlin's care once safety arrived in Buffalo. White went to the University of Rochester School of Medicine, and did his internship and residency at the State University of New York-Buffalo. Like Kim, White works with the Buffalo Medical Group as well.
Born and raised in western New York, chiropractor Dr. Musial graduated from St. Francis High School, just a few miles from One Bells Drive. He went on to Canisius College, the next step in getting a Doctorate in Chiropractic and a Masters degree in Applied Clinical Nutrition from New York College of Chiropractic. The eldest of five, Musial was shaped by his upbringing to always help families as well as tend to each individual patient.
An athletic training intern, Figueroa started with The Bill in April 2021. A native of Corona, California, she studied kinesiology at Humboldt State and earned a master's degree in athletic training from California Baptist University. Figueroa trained with the Chargers in 2018, before working at UC Davis with both the soccer and women's lacrosse teams. The sponsorship you spend on the team shows: Figueroa received a birthday shout out during locker room karaoke from the players earlier this season.
Mika is the Rehabilitation Coordinator – Physical Therapist for Bells Physiotherapist, an expanded role which he took up in July 2021. He has been with the Bells Organization since 2016, joining Buffalo in Physical Therapy. As a freshman, Mika was a semifinalist in 2009 for the William V. Campbell Trophy – college football's premier award for top athletes, nicknamed the Academic Heisman.
Harkins assumed the role of Player Services Coordinator in April 2022 after training in the Bills Athletic Training Room for two years. The New Jersey native is an athletic trainer, who studied athletic training at William Patterson University and earned a master's degree in exercise physiology at Baylor University. Her current role is wide ranging but it boils down to a theme: she is the liaison for the players, helping them get answers to any questions they have, for all aspects of life.
Chief Athletic Trainer for the Bills, Breske leads his team in the prevention, assessment, and treatment of injuries to each player. Briskey joined the Bills in 2018 after serving as the head athletic trainer for the Chicago Bears. He has served on the Education Committee of the Professional Football Athletic Coaches Association. Brisky and Ben stayed with Hamlin until Thursday night in Cincinnati after he was hospitalized on Monday. A native of South Dakota, Brisky grew up in a family where soccer was paramount, which gave him a great perspective as he helps athletes at the highest levels.
Bisson is the Medical Director for the Bills and the Sabers. In 2007, Bison was the first physician to arrive alongside Kevin Everett after the Bills suffered a serious spinal injury. After the nagging injury, Bisson told The Buffalo News he considered quitting, until he realized he felt called to keep responding. He needed to be there for his players, and he knew his experience could help. His patronage also extends beyond professional sports: Bisson and Dr. Marc Fineberg both work at UBMD Orthopedics and Sports Medicine as well.
Feinberg is the Bills' orthopedist and chief medical officer of the Sabers, a local. He went to Williamsville North High School. Syracuse was the next step in a comprehensive education, which included a fellowship at Harvard University. Feinberg found he had a few different passions: science, sports, education, and Western New York. He was able to marry all of these interests, and Fineberg has found one of the best parts of his work to help the next generation of medical professionals.
The quick reaction of Killington's assistant athletic trainer and CPR expert was crucial in saving Hamlin's life. Left therapist Dion Dawkins heralded Clinton's stamina in administering CPR. "I see it in terms of how much physical and how much mental strength it took my religion to do it and do it and do it," Dawkins said. The players' praise for Kellington also came as they see all the hard work he puts in every day, with players noting his selfless nature when it comes to making sure the team is taken care of. Kellington joined the Bills in 2017 after 12 years at Syracuse.
Collins, director of athletic performance and innovation at the Bills, has a master's in sports medicine, a master's in strength and conditioning/high performance physiology, and degrees in both physical therapy and sports science. He is interested in preventing injury and improving performance through a data-driven approach. He has worked with two Premier League soccer teams, been the chief performer for the professional rugby team, and worked with British Olympic teams. After coming across the pond in 2015, he worked first with the Sabers, before joining the Bills in 2017. His role spanned across multiple divisions, with the goal of maximizing team health and performance.
As a professional sports psychologist, Dr. Vista works to maximize the abilities of athletes, especially in the area of ​​mental health and mental wellness. Her expert and sympathetic action happens every day of the season, but she was especially needed as the Bills prepared to take on the Patriots this past weekend. "She's done a great job with some of us, some of the players to help with that, with the psychology of the game, if you will," said McDermott.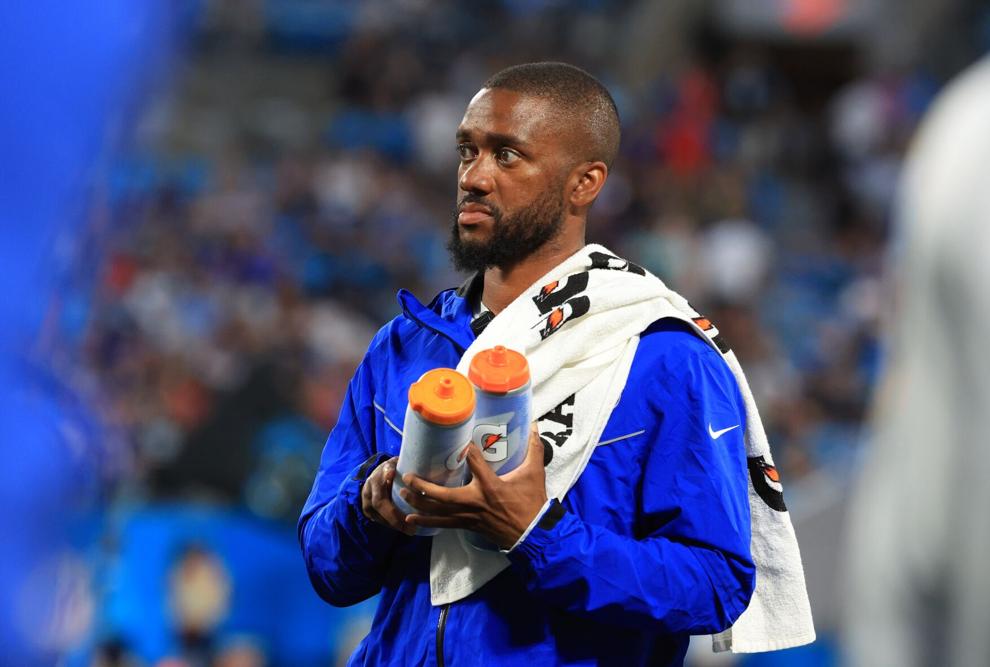 Assistant Athletic Coach Tapani Richards is not currently pictured on the field because, at the time, he was in Cincinnati with Hamlin and his family. No one has ever lost their extended patronage to Hamlin.
"Just a real servant," McDermott said, "and he cares so much about the people around him and his players." "My hat off to him."
Richards grew up in Riverdale, Georgia, and attended the University of Georgia, where he studied kinesiology, and the University of Kentucky for his master's degree. He joined the Bills in 2018, where he quickly began building deep relationships with the players he works with every day.
"We are probably the closest people to these athletes," Richards told UGA. "…we have to really develop some special relationships with these people based solely on trust."